St. Clair County IL
A.R.E.S. AND SCARC PUBLIC SERVICE OPERATION GUIDE
(updated 12/13/2015)
---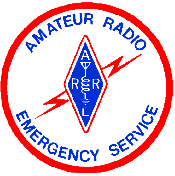 The Amateur Radio Emergency Service (ARES(r)) is sponsored by The American Radio Relay League and has the longest history of public service of any Amateur Radio emergency communications provider organization. The St. Clair Amateur Radio Club (Club) fully supports the ARES and encourages Club members to register in the ARES and become fully trained for emergency communications service to the public. The Club also supports public service events such as parades, walks and bike rides.
ARES is a registered mark of the American Radio Relay League
---
RACES - Radio Amateur Civil Emergency Service
The federal government created RACES after World War II. The RACES FCC rules (97.407) addressed the need for Amateur Radio operators to function as an integral part of a state, county or local Civil Defense agency in time of national emergency or war. The RACES authorization provides the means to continue to serve the public even if the President through the FCC suspends regular Amateur operations. In this situation, the RACES rules provide for use of almost all regular Amateur frequencies, but places strict limits on the types of communications made, and with whom. Operators of RACES stations must follow the strict RACES rules at all times. In view of these restrictions, in St. Clair County, absent a national emergency declaration, Amateur operations are usually conducted under the name Amateur Radio Emergency Service (ARES). However, registration in St. Clair County as an ARES operator is considered a RACES authorization as well.
---
Click HERE for a current list of ARES/RACES Members. (Updated 10/09/2023)
Click HERE for ARES form.pdf
Click HERE for Amateur Radio Operators manual for St. Clair County. (Updated 7/11/07)
Click HERE for the Beaufort Wind Scale (for general use by ARES / Skywarn members).
FEMA Information
Protective Actions (Protective Actions are research-based actions and advice that anyone can take to prepare for, keep safe during, and recover from a disaster.)
FEMA Shelter In Place Guidance 5-25-2021.pdf
---
ARES QUALIFICATIONS
The Amateur Radio Emergency Service (ARES) consists of licensed amateurs who have voluntarily registered their qualifications and equipment for communications duty in the public service when disaster strikes. Every licensed amateur, regardless of membership in ARRL or any other local or national organization, is eligible for membership in the ARES. The only qualification, other than possession of an Amateur Radio license, is a sincere desire to serve. Because ARES is an amateur service, only amateurs are eligible for membership. The possession of emergency-powered equipment is desirable, but is not a requirement for membership.
---
REGISTRATION WITH ST. CLAIR COUNTY ARES
To register with the ARRL ARES, you will need to complete the ARES registration form. This form is available on the ARRL website. Click HERE for the form. Complete this form and send it to me at either of my e-mail addresses: (WA9TZL@ARRL.NET) or (GENERADIO@ATT.NET).

This form contains the information required concerning radio equipment, emergency power capabilities, experience and training certifications. The other important information on this form concerns your telephone contact numbers as well as your address. This registration form MUST be completed and submitted to the ARES EC to receive an ARES membership card. The ARES membership card AND your FCC Amateur Radio License will identify you in times of an emergency if you are instructed to report to a restricted emergency scene or location.

---




Gene Kramer - WA9TZL
St. Clair County ARES Emergency Coordinator
611 S. Elizabeth Drive
Freeburg IL 62243


---
There is a close working relationship between the St. Clair County Emergency Management Agency (EMA) and the St. Clair County Amateur Radio Emergency Service and The St. Clair Amateur Radio Club.
The single point of contact to request Amateur Radio emergency support communications is via the St. Clair County EMA central dispatch, called CENCOM (phone 618-277-3500).
For non-emergency public service support requests, contact one of the Club officers listed on our web home page.
---
COMMUNICATIONS NET:
The Communications Net for ARES operations within St. Clair County is the NET that operates EVERY TUESDAY EVENING AT 1900 HOURS LOCAL TIME ( 7 pm )on the St. Clair County Amateur Radio Club VHF repeater frequency of 147.120 MHz. This is a "roll call style" net to provide information and coordination to amateur radio operators. All operations will be under the direction of the net control station. The Net Control Station directs ALL amateur radio traffic into and out of the affected area of the emergency and may make arrange for "alternate" operators to move to simplex frequencies for "staging operations". If the St. Clair Amateur Radio Club repeater fails, such as being struck by lightning, the Net Control Station will switch to SIMPLEX on 147.12 first to announce how the net will continue. If the net is moved to our St. Clair County backup repeater, a station will be desginated to stay on the 147.120 MHz simplex to direct arriving stations to the new net frequency on 145.110 MHz (PL 127.3).

Net Control for the St. Clair County ARES will have direct contact with the St. Clair County Emergency Management Agency or via a designated alternate amateur radio operator. The alternate ARES frequency within St. Clair County is the 444.625 MHz Repeater (St. Clair Amateur Radio UHF Repeater). The main repeater (K9GXU) site is six miles SE of Belleville off of Rt. 15/13.
---
OPERATING PROCEDURES:
In an emergency communications situation, it is VERY important to do the following:

Listen first: do not immediately "jump" into the NET unless you have emergency traffic.
When invited by the net control to check in, be sure to state your call sign with Standard Phonetics, i.e., "K"- kilowatt, "9", "G" - golf , "X" - xray, "U" - uniform. This aids in immediate identification and reduces time for repeats
.

NEVER leave your home or work to respond to an incident, unless NET Control has requested you to do so. You will not be admitted to an incident scene if your services have not been requested. If the request is for amateurs from St. Clair County ARES to assist, for example, the Illinois State Police, you still operate under a Net Control, but you WILL NOT BE COVERED under any insurance but the insurance you carry on yourself. Volunteers are not covered under the Illinois Workman's Compensation Insurance unless authorized by Illinois Emergency Management Agency (IEMA) under a state declaration of emergency. Again, DO NOT ENDANGER YOURSELF OR OTHERS BY RESPONDING TO AN EMERGENCY ON YOUR OWN ! Your safety is of paramount importance.
BE prepared - have a fresh battery pack ready at all times for your portable transceiver. If at all possible try to carry an "Alkaline case" or "dry pack" as the battery cases are called that use standard alkaline batteries. You may be in an area that you can not readily obtain AC power to recharge a depleting rechargeable battery pack.. Carry an extra antenna adapter, especially the SO239 to BNC adapters. These are relatively inexpensive BUT come in handy when you are asked to connect to an external antenna that may exist at a Hospital, EMA office, etc. When a fixed base or mobile transceiver fails, the extra DB of power for both receive and transmit from your portable could be a life saver on an external antenna - be prepared to CONNECT!
Paper /Pad/Pencil-Pen/Map: even with the advent of electronic planners, there is no substitute for the paper and pad mode of operation. Instructions from NET CONTROL and/or requests for relay from other stations or the Served Agency (Police, Fire, EMA, Red Cross, Salvation Army, etc.) can become pure trauma if you're trying to "remember" what was needed/requested. Amateur Radio has been a very professional means of getting the message through for years and this is true because of ACCURACY of information. You will need to carry a map, especially of St. Clair and nearby counties, if you are not familar with the area AND if an ARES from a surrounding County makes a request for assistance.
Support Supplies: in the event you may be "stationed" at a shelter, roadblock, hospital, etc., for an extended period of time, you may consider carrying a "support" back pack or other type of portable carrier that will allow you to carry bottle water, non-perishable foodstuffs (snacks), flashlight and extra batteries as well as a portable AM/FM radio (small) to add to the Emergency Broadcast/Emergency Alert System Information from radio station KMOX on 1120 kHz AM in this area.
CONDUCT: remember YOU are representing several areas. First, you are representing the Amateur Radio community. Secondly, you are representing the ARES organization. Thirdly, you are representing YOURSELF AS AN INDIVIDUAL. Professionalism both ON the air and in person reflects on ALL THREE AREAS. Remember the News Media listens to scanners and often shows up in an emergency, so don't make comments or act in a manner that would adversely affect us all. NEVER ASSUME! Also ask NET CONTROL when in doubt. A large SCANNER audience is out there, especially during times of an emergency - THINK BEFORE YOU SPEAK- think how it will sound to others. This is NOT the time for idle chit-chat jargon, or "funnies" on the air. Remember who you represent-at least three areas! AND you NEVER speak for the organization or agency that you are supporting.
---
HOW ARE YOU ALERTED OR NOTIFIED:
The method of contacting members of the Amateur Radio Emergency Service depends on the type of emergency situation and the urgency for support communications. In an AREA Wide emergency, the request for ARES will be made by the St. Clair County Emergency Management Agency. If telephone lines or cell phones are overloaded or not available the request will be made from St. Clair County EMA's Radio Dispatch Center (CENCOM) via radio pager notification to the ARES EC for St. Clair Co. If the request for Emergency Support communications is immediate, a telephone tree call out from the ARES member registration list will begin. Again, if telephone communications are down, the NET Control STATION will activate and make repeated announcements on the St. Clair County Amateur Radio Club Repeater of 147.120 Mhz or the 145.110 Mhz repeater for amateur operators.
---
GUIDELINES FOR RESPONSE:
Earthquake - if you feel the earth move to the point where doors and windows rattle, items fall from shelves, etc., immediately turn your VHF rig ON to the NET frequency.
If the sky has turn extremely dark (this is not a SKYWARN lesson) and winds are pushing you and or other objects about and/or hail is falling -immediately turn your VHF rig ON to the NET frequency.
If you hear directly and/or hear from NEWS media broadcasts about a disaster likely to disrupt regular communications , turn your VHF rig ON to the NET frequency.
When making an inquiry on the NET frequency, use PLAIN TEXT English, do not use ham jargon phrases or Q-Signals such as QRV, QTH, QRU, as some newer operators will not know what these mean and cause unnecessary air time delays by requests for repeats. /ol>
---
NET CONTROL WILL ISSUE "TACTICAL" ID'S:
The NET CONTROL operator will issue "tactical call sign" when operators are asked to report to areas other than their fixed home locations. An operator sent to Belleville Memorial Hospital for support communications would still identify with their FCC assigned call every 10 minutes, BUT NET CONTROL would call that operator (site) by its "Tactical Identification (ID),i.e., Belleville Memorial. This saves time and reduces confusion, especially if one operator reliefs another operator at the same site and thus would be using a different radio call sign.
---
HF RADIO OPERATIONS:
| | | | |
| --- | --- | --- | --- |
| | | CALL | TIME |
| Illlinois ARES Net | 3.905MHz/7.230 MHz | WD9FMB | 1st and 3rd Sunday at 4:30 p.m. |
| Illinois Phone Net * | 3.857 MHz | KA9MZJ | M - F 4:45 p.m. & 8:00 a.m. Sunday on 3.940 MHZ |
| Illinois Section CW Net | 3.538 Mhz | W9NXM | 7:15 p.m. M - F |
| Illinois Sideband Net * | 3.905 MHz | WB9QPM | 6:00 p.m. Daily |
| North Central Phone Net* | 3.912 MHZ | KA9MZJ | M - F 7:00 a.m. |
*Operates as part of the National Traffic System (updated Dec 5, 2017)
---
PACKET COMMUNICATIONS:
NET CONTROL may ask for Digital Communications between sites, especially if Red Cross or Salvation Army "sheltering" operations are extensive. The important area here is for "Portable Packet" stations if at all possible. With the exception of some Government offices and emergency facilities, emergency power may be limited and a full-blown PC may not be practical. If you have PACKET capabilities OR other digital modes from Home with no problems with AC power, you may be asked by NET Control to establish a simplex link and provide information to NET Control if you can not relocate to NET Control's position with your station. The PACKET frequencies most likely to be used include: 145.090 MHz, 144.390 MHz, 145.070 MHz, and 145.010 MHz as well as 145.030 MHz.
---
ALERTING DEVICES:
---
FREQUENCY MONITORING -EMERGENCIES:
Once you have been alerted to the hazardous situation/emergency, listen to the St. Clair County ARC repeater on 147.120 MHz and/or 444.625 MHz for further information. Here are some other frequencies where you may hear broadcasts of emergency information:
| | |
| --- | --- |
| FREQUENCY | DEPARTMENT /EMERGENCY RESPONSE AGENCY |
| 155.475 MHz | Illinois State Police Emergency Radio Network (ISPERN) |
| 155.370 MHz | ALL Police Departments "Point to Point" Base Stations |
| 154.190 MHz | St. Clair County Fire Dispatch |
| 155.055 MHz | Illinois Radio Emergency Assistance Channel-Fire, Police, ESDA, etc. |
| 158.835 MHz | St. Clair County EMA "CENCOM" -all EMA units, Schools. |
This information for monitoring purposes ONLY and can provide you with possible "first" indication of an emergency situation that you might be requested to provide support communications. Remember to attempt radio contact with the ARES NET CONTROL station for clarification of anything you hear on the listed frequencies.

Do not act on the information you monitor on these frequencies, always check with NET CONTROL.

147.120 MHz-Primary ----- 145.110 MHz-secondary ----- 146.550 Simplex ---- 446.000 Simplex
---
Seven State Earthquake Affected Area
Midwest: New Madrid Fault Threat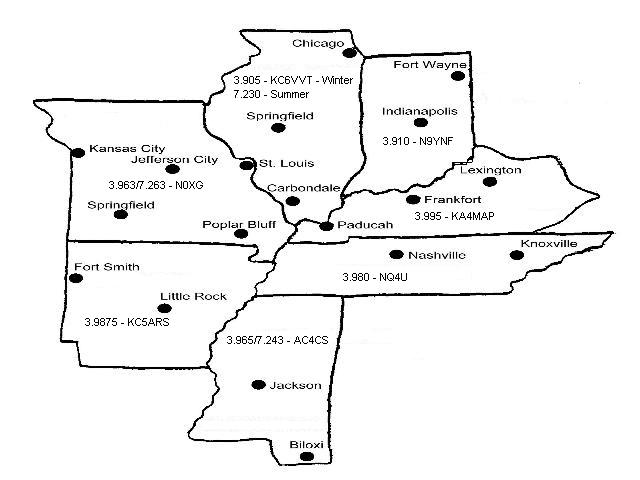 ---
COUNTY MAPS
Click On Image For Larger View
---
RELATED INFORMATION
Public Service Communications Manual From the ARRL
ARRL Operating Aid - (Communications Procedures, Phonetic Alphabet, RST System, Time Conversion Chart)







---

Other Places On the Net To Find Related information